[Via thedissolve.com]
As a child, Terminator 2: Judgement Day was absolutely one of my favourite movies. It probably wasn't really age appropriate for me, but I wasn't complaining. I had an old VHS copy that I'd borrowed from my cousin that I watched over and over again.

[Via YouTube]
I mean who doesn't love a story about two homicidal machines duking it out, one sent back in time to kill a young boy who will eventually become the leader of the resistance against the machines, while the other was sent back to protect him? You know what? T2 was on TV last weekend late at night, and even though I'd seen it many a time before, I stayed up and watched it for a while, commercials and all, just because.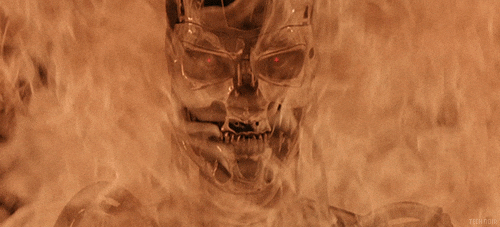 [Via giphy]
I mean, there's just too much awesome action throughout the movie to NOT sit and watch it!

[Via giphy]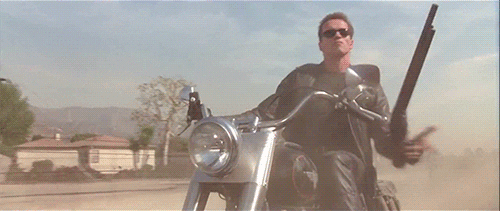 [Via giphy]
Well, if you too are a fan of Terminator 2, then I have a gift for you. No, it's not a bunch of roses…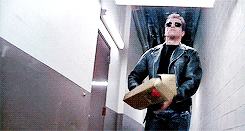 Nope, it's the trailer for the movie, with all the dialogue and sound effects dubbed by young children. It makes the movie seem pretty adorable, and considerably more kid-friendly.
It's hard to get through even a little bit of that video without cracking a smile. It's especially hilarious to hear a child's voice deliver the Terminator's lines…
"Get down!" *BOOM*
"Come with me if you want to live."
"You can't just go around killing people!" "Why?" 
I love that someone took the time to find kids to voice this and put it all together. There's another pretty funny parody video that's been floating around the internet for a little while now, and I love to pull it out anytime it's appropriate… And it totally is here:
But you know, there's another new Terminator film hitting theatres tomorrow: Terminator Genisys. It looks pretty cool too. And if it's anything like Terminator Salvation (the most recent film in the series), it should be pretty entertaining.
And while it doesn't actually hit theatres until tomorrow, apparently one Redditor received this photo from a friend who was at the cinema to see it.

[Via Reddit]
Even the movie theatres are playing torrented versions of the movies these days! Actually, as the twitter handle on the screen suggests, this is from Australia, where it has already been July 1st for some time now…
But still… running the movie from a laptop that's not even plugged in?! Not to worry though. He will be back.

"Get to the chargaaaaaa!" [Via Reddit]
Are you excited for Terminator Genisys? Or are there any other Schwarzenegger movies you'd like to see a sequel to? Personally, I'd love to see him team up with Tom Arnold for a True Lies sequel!