[Via utah.newshub.us]
Have you ever seen the clip that's been floating around the internet for a few years now of Batman being pulled over in a Lamborghini?
That clip went viral all over the internet, and that's when people learned of Lenny Robinson, or as he's better known to most, Lamborghini Batman or Route 29 Batman. Once his identity was revealed following that video, also revealed was the ton of charity work that he did for sick kids all over the place. It was the Washington Post that first unmasked him, and recently has told the story of how he became the superhero:
"He was my brother, my business partner, my best friend," Scott Robinson said. "He touched a lot of lives and made a lot of kids smile. That's all he wanted to do."

Robinson made his money in the cleaning business. He spent hundreds of thousands of dollars, his brother said, on his '60s-style Batmobile, a costume that seemed more real than those in the movies, and the trinkets he handed out to children, always autographed "Batman."

It took him about 45 minutes to put on the black eye makeup and his cumbersome superhero uniform, which drained him of five to six pounds in water weight every time he wore it.

He first started wearing the costume because one of his sons, Brandon, was obsessed with the character. But when he saw how children reacted, Robinson found a new purpose.

Robinson as Batman with Wonder Woman during the annual Hope For Henry Superhero Celebration. [Via Washington Post]
As the Dark Knight, Robinson used a deep voice, but he was careful to never scare younger children. He liked to pick up the smallest ones and hold them up so they could look down into his eyes.

He had a theory on why the character resonated with kids, explaining it in a 2012 online chat with Post readers.

"Batman is the only superhero that doesn't have superpowers," he said. "He's naturally a superhero. Kids can relate to me a lot better."

He also recalled the comment from parents that he coveted most: "This is the first time my son or daughter has smiled in months."

On one visit to Children's National Medical Center in Washington, there were kids with tubes in their noses, with IVs in their arms. Robinson handed out gifts: books, rubber symbol bracelets and other toys. They all thought he was the real Batman.

Robinson worked closely with Hope for Henry, a D.C. organization that helps sick children. Founded by Laurie Strongin and Allen Goldberg after their son Henry died from a rare disease, the group threw superhero parties in hospitals. Batman was the star.

"When I asked him to do anything," Strongin said, "he always said yes."

Robinson had never met Henry, but he called her every year on the boy's birthday.
Another thing worth noting is the fact that while most superheroes were paid for their work, Robinson always worked for free.
Robinson used his Lamborghini Gallardo Spyder to fit with his Batman character, leading to some referring to him as "Lamborghini Batman." The same year the video of him being pulled over surfaced, he actually went out and bought a custom-made old-school 60's era Batmobile.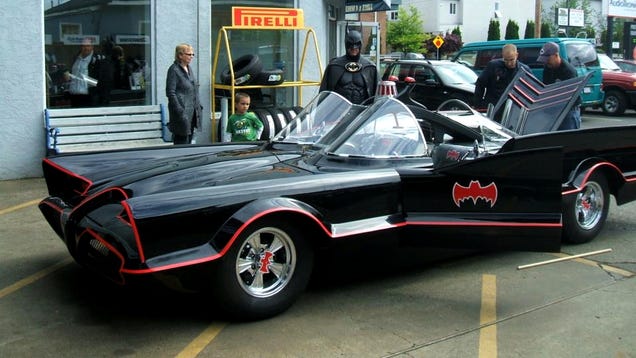 [Via Jalopnik]
The car was custom-built by a British Columbia-based company called Unique Movie Cars and Props. Robinson took delivery of it in BC and spent the following summer on a cross-country trip back to his home in Maryland, stopping at children's hospitals all along the way and making appearances as The Dark Knight.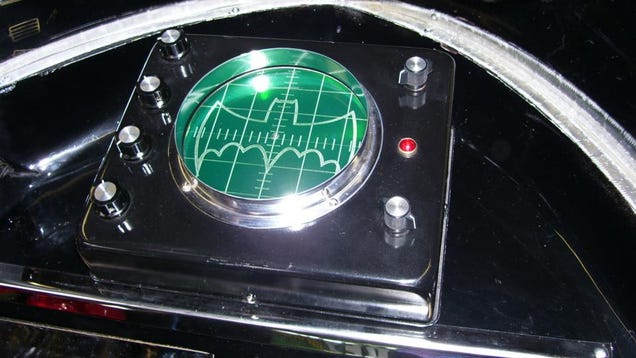 Who wouldn't be drawn to such a sight? You can read more heartwarming stories of how Robinson touched people's lives in this Washington post article about him.

[Via Mashable]
Sadly, Robinson was killed in a traffic accident on Sunday night.
The Batmobile pulled into a gas station Sunday night and, as usual, the children who spotted it gawked.

Lenny B. Robinson was used to that. The Maryland man, better known as the Route 29 Batman, had for years dressed as the Caped Crusader and driven his custom-made car to deliver moments of happiness and distraction to hundreds of sick children at area hospitals.

His costume stored in the Batmobile but his alter ego never entirely switched off, Robinson gave the kids at the gas station some superhero paraphernalia before driving off.

Minutes later, Robinson pulled over with engine trouble on an unlit stretch of Interstate 70 near Hagerstown, Md., police said. The people he had just met parked behind him, turning their emergency lights on.

His car was stopped in the median but still "partially in the fast lane" when he got out to check the engine, according to state police. Around 10:30 p.m., a Toyota Camry slammed into the Batmobile, propelling the steel-framed hunk of black metal into his body. Robinson, 51, died at the scene.
There has been a widespread outpouring of love and condolences for Robinson's family. One person on Reddit even posted this photo, with the caption "Lenny Robinson (Maryland Batman) with my late son Josh. …R.I.P. Lenny, you were a great man…Give Josh a hug for me!":
And by taking a look at Robinson's website, you start to get an idea of just how many kids he helped, just by making them feel like a kid instead of a patient for a day.
Rest in Peace, Lenny Robinson. You were both the hero these kids needed AND the hero they deserved.